Xylitol 101
Basics of Xylitol
Staying healthy through transformational hygiene. Xlear's xylitol-based products support that goal.
Xylitol is a natural sweetener derived from natural sources. It is also produced in the human body as a by-product of a normal metabolism. Our xylitol is of the highest quality possible. It is a pharmaceutical grade, meaning it must be more than 99.95% pure, and is made from non-GMO (non-genetically modified organism) corn fibers. It does not contain any of the corn grain and it is tested to ensure that no corn allergens, mycotoxins, or corn proteins of any type are in the product.
Xylitol 101 is our dedicated page for introducing consumers to the Basics of Xylitol and the science behind using it in sinus care and oral care products. Choose a link below to find the resource you need.
Hygiene Routine at a Glance
RINSING YOUR HANDS WITH WATER ONLY
DRY BRUSHING/RINSING MOUTH WITH WATER
RINSING WITH A SALINE RINSE
WASHING YOUR HANDS WITH SOAP & WATER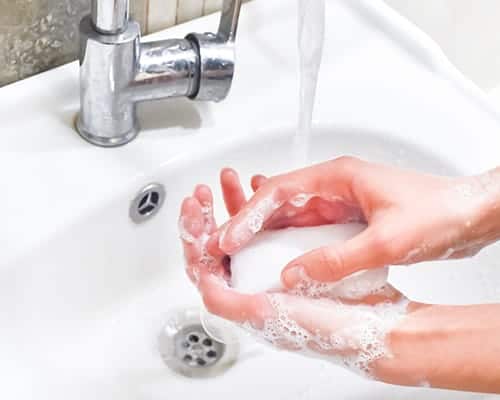 WASHING WITH A XYLITOL RINSE OR SPRAY
SANITIZING YOUR HANDS WITH HAND SANITIZER
USING ANTIMICROBIAL ORAL CARE PRODUCTS
SANITIZE WITH AN IODINE SPRAY
Check out our FAQs page or check out the Scientific Studies below. You'll see some of our Core Studies already displayed, but you can use the Sort Studies dropdown to dive into the topic that interests you most.
FAQs
SCIENTIFIC STUDIES
Use the dropdown to filter studies by your area of interest.
Medical Disclaimer
While there may be information on the Xlear website relating to certain conditions, including COVID, cold, flu and similar conditions, you should promptly seek your own healthcare provider's professional opinion or advice should you suffer from any such medical condition.
Our Site nor Xlear generally do not offer medical diagnosis or treatment advice. Xlear makes no claims that it can cure or treat any conditions, including any conditions referenced on its website or in print materials, including COVID, cold, flu and other similar conditions.
The information, including any scientific or clinical research provided on our Site, is made available for educational purposes only. This information is intended to educate and help people make informed decisions about potential options for the various conditions referenced in the information. Xlear therefore makes every effort to ensure that any information it shares complies with national and international standards for clinical trial information and is committed to the timely disclosure of the design and results of all interventional clinical studies for innovative treatments available, or that may be made available.
However, research is not considered conclusive. Always consult your healthcare provider with any questions.
If you take prescription medications for any health condition, including upper airway, sinus, and other related conditions such as congestion, you should consult with your physician before discontinuing use of such medications as Xlear is not intended to replace or supplement any prescription medications.
Statements regarding Xlear products are the opinions of the individuals making them and are not necessarily the same as those of Xlear Inc.